The piece concludes with a sentence that implants itself in the brain, because it is, in fact, so far upstream from the way we live: "Attention is the beginning of devotion." And, of course, this is so. The unnoticed can't possibly be loved. Certain critics liked to trash Oliver as unsophisticated. But her simplicity was naked display of the elemental: Dilate, she insisted, because a world worthy of attachment exists outside ourselves, and the alternative is numbness and narcissism.
Attention is the beginning of devotion. The idea exhilarates, but it also saddens. If the attention of humans can be so easily filched by a machine—or, more precisely, the companies that operate those machines—then it follows that the capacity for devotion is damaged along the way. Any parent who has felt the twinge of shame that comes with the belated realization that a social-media feed has taken them away from a conversation with their child knows this to be true.
When I pulled Oliver's collected works off the shelf, I turned to her poem "When Death Comes," published decades before the fact it imagines. If the mind peels away distraction, it inevitably thinks about death—and Oliver thought about it often. She wanted to leave the world as she made her way through the woods. "I want to step through the door full of curiosity, wondering: / what is it going to be like, that cottage of darkness?" She hoped that a lifetime of careful attention had opened her to wonder and commitment, even when "death comes and takes all the bright coins from his purse / to buy me, and snaps the purse shut." Because Oliver stared hard at mortality, her field of vision had come to extend beyond personal anguish—past the abuse she suffered as a child and past all other earthly struggles—to a place of overwhelming gratitude. "When it's over, I want to say: all my life / I was a bride married to amazement. / I was the bridegroom, taking the world into my arms."
I didn't stick with my morning ritual, just as I failed to eliminate nocturnal snacking. Still, I think about Oliver's work almost every day. On a long walk, or at dinner, when I feel the buzz in my pocket, I hear her words and desperately want to do better, to regain control of my gaze and fix it harder. Attention is the beginning of devotion.
We want to hear what you think about this article. Submit a letter to the editor or write to letters@theatlantic.com.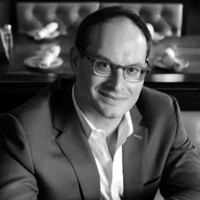 Franklin Foer is a staff writer for The Atlantic. He is the author of World Without Mindand How Soccer Explains the World: An Unlikely Theory of Globalization.